Keep Dreaming
A couple of hospitality veterans I have known for 30+ years and I take a baseball-oriented trip each year. We completed our 30/30 MLB stadium quest a couple of years ago. Last March our Spring Training trip was cut short due to Covid-19. We were planning to attend 7 games in 5 days. We made it to one before all were shut down. This year as MLB stadiums announced a return to full capacity, we were fully vaxxed and ready to go. I am usually in charge of selecting the cities and purchasing the tickets, so I began my mission.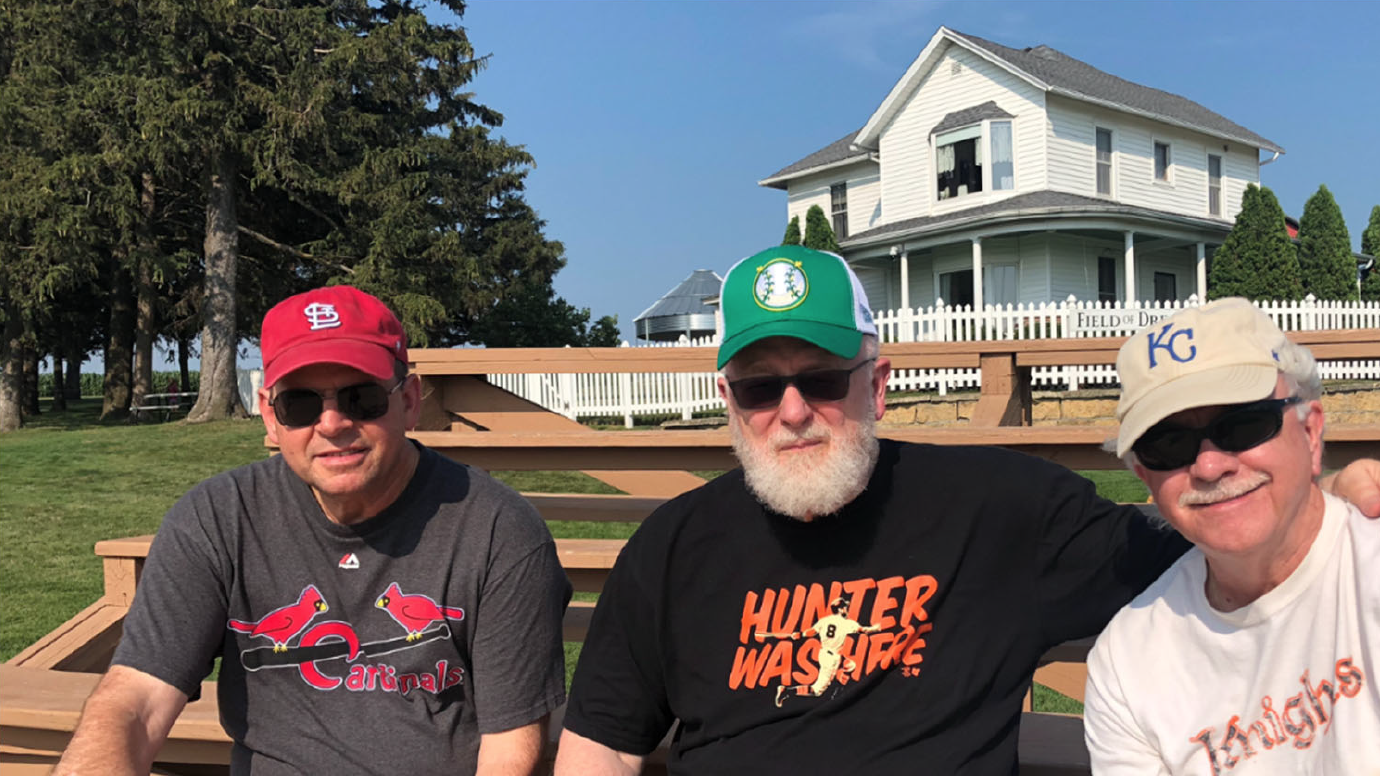 In our group of three, we have Russell Steele (Steelman), a Giants fan who lives outside of Seattle, Ray Hobbs (The Natural) who is a Royals fan residing outside of Charleston and myself, a Cardinals fan who lives about 15 minutes from Busch Stadium!
Steelman and The Natural would both fly into KC for 2 games (Twins v. Royals), and I'd drive across the state to meet up with them. On Monday, we'd make our way back to St Louis for the Giants v. Cardinals for 2 games. The new stadium in Texas will have to wait for our visit in 2022.
After Russell and Ray booked the flights, I began buying tickets and realized the Cardinals were playing the Giants in SF, not in St Louis. Whoops! Sometimes, I guess we see what we want to see?
Now we have a logistics problem. Some would call it an "opportunity". The Natural quickly suggested a resolution. After the KC games, let's drive up to the Field of Dreams (FOD) movie site. I made the mess, so I took it on myself to clean it up. After visiting the website I quickly learned that you can rent the field for $125 from 8-9 am (if you book it, they will come), and you can rent the house overnight for $500—about what it cost for 3 rooms at the Comfort Inn. The interior of the 3-bedroom home has been restored to the look the same as it did for the movie. It took me 3 seconds to say we'll reserve
the field, but the house was already reserved so we would need to stay overnight in Dyersville, Iowa which is about 3 miles from the field.
We established a room block (for everyone we expected would join us) at the Comfort Inn Dyersville and we began inviting friends. Most of these folks had joined us for a game here or there during our 10-year quest to see all the MLB stadiums. We also invited family from around the country to join us from 8-9 am on Tuesday, July 6th. (The day after a major holiday 3-day weekend.) Our normal response was "sure, I'd love to, but we already have plans." Eventually, two friends of Steelman from Cedar Rapids said they would drive their motor home up on Monday afternoon and meet us at the field.
With our two Royals games completed, we packed the car and headed to Iowa (aka heaven) on the morning of Monday, July 5th. When you enter Dyersville, Iowa, you will quickly realize that in your WAZE app the interstate highway system doesn't reach Dyersville. Dyersville is about a 3+ hour drive from Chicago and/or Minneapolis, and a 5-6 hour drive from KC or St Louis. Trust me, Dyersville is not on the way to anywhere. I believe this is part of its appeal.
We arrived in Dyersville mid-afternoon, but without a stop for lunch we needed food. Fortunately, we found Textile Brewing Company was open on this Monday holiday and we truly enjoyed their local brewed beer and two flatbread pizzas.
Just a short drive across the tracks and through the corn fields (pretty much all we had seen for the last 2 hours) we arrived at Field of Dreams. It is just like I imagined from the numerous times I have watched the movie. Nothing commercialized, just a simple ballfield in the middle of an Iowa corn field. We quickly learned we would only have an hour on the field prior to the start of an age 35+ game between two teams from the Minneapolis-St Paul area.
We grabbed our gloves and headed towards the outfield. On the way to our "wanna have a catch" moment, we met a family that had dropped by FOD after visiting the highest point in Illinois (Charles Mound). They had made the "rookie" mistake of not bringing any baseball gloves. We quickly remedied that situation with the 4 spare gloves and balls we brought. I had purchased a couple of used gloves (Wilson A2124 George Brett Signature Model) per the suggestion of my new twitter pal (Ethan Bryan author of A Year of Playing Catch).
We will call this Magic Moment #1
As we were wrapping up our "catch" we noticed an RV in the parking lot which is simply a grassy field south of the small creek that trickles through the property. Jon and Lori had arrived from Cedar Rapids. Lori quickly assumed the role of photographer and videographer for the remainder of the experience. These two provided excellent conversation and humorous anecdotes from their days with Russell in Albuquerque. These three had worked together at what is now the Albuquerque Marriott Pyramid North Hotel, and this is how Lori and Jon met! So here we are sitting in an Iowa field enjoying brats and beverages as the sun sets, telling stories, and watching the over 35+ game under the lights. Listening to Lori's stories of growing up on an Iowa corn farm was like a chapter from the Field of Dreams story itself. Her descriptions provided us with a first-hand picture of what growing up in Iowa was like.
Magic Moment #2
Unfortunately, Jon would not be able to join us on the field the next morning. He would be teaching a class via Zoom with students attending from Italy. We were back to just us three. The next morning while having a very quick breakfast at the Comfort Inn, we met Jeff from North Dakota. We invited him to join us at the Field. He and his wife Robyn were already planning to visit later that morning.
Magic Moment #3
We arrived at FOD at 7:30 am on a beautiful clear and relatively cool summer morning! We met the two guys that take care of the field and the grounds and had a brief chat about baseball. One of the guys was a "ghost player" in the movie and has been at the field ever since. The new MLB field is just beyond the corn field past left field. This is where the Yankees and White Sox will be playing in August. True to Iowa, the new field is surrounded by the corn fields as well. Having the field to ourselves in the early morning hours was like waking up to find your dream is right in front of you.
Magic Moment #4
One of the players from the game the previous evening emerged from the house. However, he wasn't just any random player. He was a pitcher, and he had hit a home run into the corn. He was wearing an old-time uniform from his days as a strength and conditioning coach with the San Antonio MISSIONS. He joined in our game of catch and then offered to toss us some BP. Charlie was the absolute perfect BP pitcher. Consistently over the plate at about 25 mph. None of the three of us had swung a bat in over a decade or 2 (except for my 20 minutes in a batting cage the week before). But we managed to get wood on the ball including a few short fly balls to the outfield grass. After a child laughing, the sound of water lapping the shore or a babbling brook, one of my favorite sounds is a wood bat hitting a baseball.
Magic Moment #5
North Dakota Jeff and his wife Robyn arrived and joined us, then a man and his son from St Louis, then another father and his son. The father of one of the San Diego Padres announcers stopped by on his way to San Diego and he joined us. Just after nine o'clock, a caravan of twenty or so Corvettes came rolling down the entrance road to FOD. Kind of like the closing scene in the movie but now in the morning sunlight. In the movie they used 1500 vehicles with local folks stretching 2.5 miles back towards Dyersville. The participants received a picnic dinner, and it took 6 hours to clear the traffic after they completed the iconic closing scene of the movie. All the senior citizen Corvette owners joined us. Everyone got to play on the field. Everyone also got to bat. One man took at least 25 swings and never touched a pitch. Another man was playing short left field when he made an amazing catch. His pal shouted out to him "Hey rookie, you were good…" How many catches we made or how many knocks we got didn't matter, we were all about 9 years old for about 2 hours.
Magic Moment #6
Someone remarked "that men never grow up." One of the Corvette owner's wives responded with "THANK GOODNESS."
At 10 am we took photos, shook hands, and said our good-byes to those still playing on the field. Some of us took the house tour at 10 (don't miss it, book it in advance), some spent time and $$$ in the store, and some went on their way, but no one will forget this day. We finished our visit to Dyersville with a quick stop at the If You Build It exhibit. This was followed up with an excellent lunch at Brew and Brew.
Some observations:
No dream, No magic.
Trust your instincts. Sometimes you have to say Yes before you have all the answers.
Stay flexible. What begins as an issue, concern or problem can really be an opportunity.
Keep Dreamin'